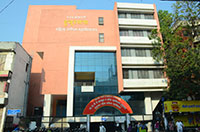 Noteworthy features
Prime location, Laxmi Road, Pune - 30
Affiliated to the Savitribai Phule Pune University
Medium of instruction:
B.Com - English and Marathi
B.B.A. and B.B.A. (C.A.) - English
Qualified, skilled & competent staff
From Principal's desk
Dear students,
Huzurpaga is a pioneer institute in Girls' Education in Maharashtra. It is the only innovative educational institution run by women educationalist through women for 'woman empowerment'. Every one knows that 'Quality and Huzurpaga' are inseparable.
"Girls are the backbone of our future families and ultimately of our society. We as an institute are aware that academic education should be supported with various experiences and culture which help them to develop their personalities with not just materialistic approach, but also with qualitative life." With this mission of our Maharashtra Girls' Education Society, Huzurpaga Mahila Vanijya Mahavidyalaya has come into existence in the field of higher education since 2001.
The Vision of Huzurpaga Mahila Vanijya Mahavidyalaya always inspires and explores the knowledge and nurtures girl students in academics and co-curricular activities. Our goal is to empower them with all the knowledge and experience that they need to become worthy commerce and management professionals and entrepreneurs. We groom them to become truly global, well equipped to deal with the current business world and its challenges, being conscious of their societal responsibilities. We play a pivotal role for value based holistic development of students. We provide them with a motivating environment as well as a healthy and a safe atmosphere.
I hope the efforts of the staff and students will serve as a stepping stone towards academic excellence with total educational quality commitment.
Principal - Prof. Dr. K. P. Bairagi
Ph.D., M. Phil., M. Com, L.L.M.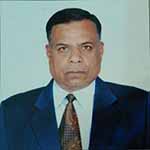 Mission
To empower girl students with global education, keeping the Indian cultural commitment and to further inspire them to excel in every walk of life.
Vision
In a span of three years, we endeavour to groom our students to develop an all-round personality so that they can face challenges with vigor & vitality. All out efforts are made to prepare our girls to work confidently in a dynamic corporate world, further inculcating in them a professional approach and an attitude to handle any situation at hand. We aspire to eventually transfer them as leaders of tomorrow.