Students Welfare Activity (Vidhyarthi Kalyan Mandal)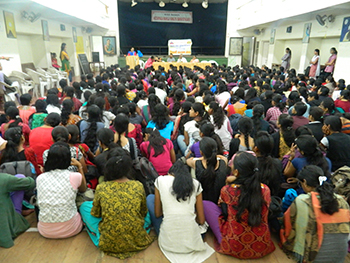 The Student Welfare Activity is in existence right from the establishment of our college. It is a mandatory activity under the Savitribai Phule Pune University. The following activities are conducted under this:
Earn & Learn Programme: Under the'Karmavir Bhaurao Patil - Earn & Learn scheme' students work in various sections of the MGE Society, Huzurpaga.
Disaster Management Activity: Here the students are trained to handle emergency situations like fire, floods, earth-quakes etc.
Nirbhay Kanya Abhiyan: Under this, the girl students are trained in martial arts, for their self -defence and protection.
Special Guidance Scheme: Under this scheme, coaching is given to weak students, especially in the subjects they find difficult like Mathematics, English, Economics etc.
Personality Development Programme: Various lectures and sessions on career guidance, interview skills, public speaking etc. are arranged for the students so as to improve their overall personality.
Anti ragging cell : We have anti- ragging cell in our college to prohibit any conduct by any student or students whether by words spoken or written or by an act which has the effect of teasing, treating or handling with rudeness a fresher or any other student, or indulging in rowdy or indiscipline activities by any student or students which causes or is likely to cause annoyance, hardship or psychological harm or to raise fear or apprehension thereof in any fresher or any other student or asking any student to do any act which such student will not in the ordinary course do and which has the effect of causing or generating a sense of shame, or torment or embarrassment so as to adversely affect the physique or psyche of such fresher or any other student, with or without an intent to derive a sadistic pleasure or showing off power, authority or superiority by a student over any fresher or any other student; and thereby, to eliminate ragging in all its forms from universities, deemed universities and other higher educational institutions in the country by prohibiting it under these Regulations, preventing its occurrence and punishing those who indulge in ragging as provided for in these Regulations and the appropriate law in force. No such case is found till date. Every year at the time of central audit by Savitribai Phule Pune University, the detailed report of all the actions and proceeds of the same is submitted.
Constitution Day : Every year at 26th November, we celebrate "Constitution Day"