Library

Huzurpaga College is one of the best academic institutions having its own well managed and automated library. It is an academic type of library, promoting academic functions.
Collection: The collection of documents include books, journals, CD's, pamphlets, news papers, project reports of B.B.A., B.C.A. and B.Com students. There are total 12035 books in the library.
Text books & Reference books: Major part of the book collection includes text books required for B.B.A. and B.C.A. students. The total collection of reference books is 5925, 3600 text books and 2235 other books.
Subject Contents: The subject contents are related to administration, banking, costing, literature (Marathi and English). The literature includes the biographies, autobiographies, Vishwakosh, dictionary, poetry, essays and dramas.
Periodicals: The collection of periodicals acquired by the library is according to the requirement of students. We subscribe them for subjects like Computer Science, Commerce and Administration. The short list of periodicals is as follows:
Business World
Competition Success
India Today
Indian management
Prabandhan: Indian journal of management
Reader Digest
गृहशोभिका
तनिष्का
Collection of CD's: The library has a rich collection of CD's. Currently there are 275 CD's in the library. CD's are used by the teachers for the presentation in classroom to improve the learning efficiencies of students. The subject contents of CD's are related with Windows Operating System, IT skills, Marketing, Business Communication, Advertising etc. These CD's form a part of e-book contents.
Other material: Student projects kept for reference. Clipping material for students and teachers.
Language & Books: A variety of English and Marathi language books are available in the library.
Readers: It is purely an academic type library open to college students, teaching and non-teaching staff.
Timing: The library is open for providing the services to the readers from 9 a.m. to 1 p.m. daily.
Department of Sports and Physical Education

Our college encourages and promotes talented students in the field of sports. Discipline and excellence in sports are special features of our college. Maintenance of physical and mental fitness is ensured through our well-equipped gym with the latest instruments, Table tennis hall, Badminton hall, Volleyball court, Basketball court.
Every year, students of our college participate in various intercollegiate competitions like Cricket, Volleyball, Fencing, Kho-kho, Kabaddi, Softball, Ball badminton, Boxing, Athletics and Netball etc. Students of our college also get selected for inter-zonal, Inter University, State, National, International competitions.
We also conduct intercollegiate and inter-zonal cmpetitions. Every year in January, we have Interclass Sports Festival (Krida Mohatsav) to encourage our students.
Sports Achievements 2015-16
Sr. No.
Name
& Year of Student
Event
Performance
Participation
1.
Amruta Dhore
T. Y. BCA
Archery
-
Inter Zonal Competition
2.
Aparna Ambole
S.Y. B.com
Athletics
5 km walking, Awarding Silver Medal in Inter Collegiate Competition
Inter Zonal Competition.
3.
Vaishnavi Ganar
F.Y.B.com
Athletics
5 km walking, Awarding Bronze Medal in Inter Collegiate Competition
-
4.
Megha Gholap
T.Y. B.com
Cricket
Inter Zonal Competition held at Pravaranagar
5.
Sangeeta Patel
F. Y. Bcom
Net Ball
Inter Zonal Competition held at Chakan
6.
Pooja Gawande
F. Y. B.com
Net Ball
Inter Zonal Competition held at Chakan
7.
Monali Kumbar
F. Y. B.com
Soft Ball
Inter Zonal Competition held at Yewale and also in Inter State Competition held at Yawatmal and Thane.
8.
Priyanka Mantri
F. Y. B.com
Squash
Awarding Gold Medal in Inter State Competition.
-
9.
Reecha Anawekar
T. Y. B.com
Fencing (sabre)
First Place in Inter Collegiate Third Place in Inter Zonal Competition Select for All India Inter University competition will be held at Punjab
10.
Mariam Sayyad
F. Y. B.com
Fencing (Epee)
Second Place in Inter Collegiate
Inter Zonal Competition
11.
Sheetal Gaikwad
T. Y. B.com
Fencing (Foil) Fencing (Sabre)
Second Place in Inter Collegiate Third Place in Inter Collegiate
Inter Zonal Competition
12.
Meghashree Vaidya
S. Y. B.com
Fencing (Foil)
Inter Zonal Competition
Gymnasium

A Gym helps students to be healthy, physically fit and active. It also helps them to maintain their physical and mental health. This facility is available in the college for our students from 7.30 a.m. to 12.30 p.m. The Gym is well equipped with the latest equipment including stationary cycles, dumbbells, treadmill, multi-gym apparatus etc. It also helps students to develop their sports skills.
Computer lab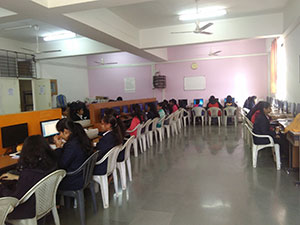 All the computers are arranged in a systematic circular way which facilitates the teachers to pay attention to all students.
The computer laboratory in college is equipped with 50 computers, having the facility of internet, LAN, scanner and printers. The lab is secured with Antivirus software and there is a backup facility. Students from all disciplines that is B.Com, BBA, BBA (CA) utilize the lab for various purposes like filling forms, working on projects, making presentations etc.
Various softwares are installed on the computers as per the requirement of BBA (CA) course. The BBA (CA) students use the lab for Practical work.